Trail Guide to the Body Empowers Albanian Students to Master Palpation
One recent Saturday morning, a small group of physical therapy students from the Medical University in Tirana, Albania, shuffled into a new training center to begin learning how to locate bony landmarks and muscles of the human body. This in itself might seem like no big deal – lessons like these are de rigueur in almost every physical therapy program within the U.S.
"In this part of the world, students in the university medical education system have access to very few medical education textbooks, based on practical application. Many physical therapy students graduate with limited clinical practical education," says Kathy Scott, PT, DPT, an American physical therapy instructor working for the ABC Health Foundation, a not-for-profit organization striving to improve medical education, and improve patient care in Albania.
As Kathy tells it, the current medical education situation is extremely challenging for the students.
So, when Kathy noticed her students excitedly poring over her single copy of Trail Guide to the Body the ideas exploded. She thought a class based on the textbook's easy-to-understand, hands-on lessons could be a real game changer for her students' palpation skill development.
Kathy shared her idea with a friend, who then generously purchased eight new copies of Trail Guide to the Body for the university's new training center, a place where the hands-on palpation classes could quickly take root and grow.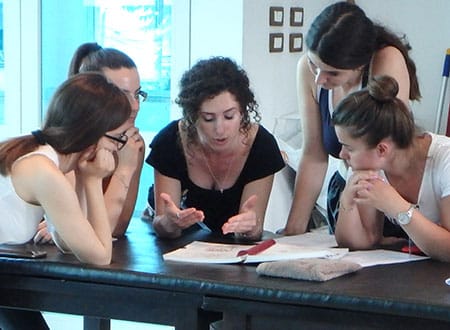 Getting an important thing going.
Grateful for the textbook's engaging and easy-to-follow palpation instructions, Kathy emailed senior manager Kate D'Italia at Books of Discovery, Trail Guide to theBody's publisher, expressing her thanks for a textbook that will facilitate the proper training and skill development of Albanian medical and physical therapy students.
"When you hear stories like this one, you realize that as a publisher we really have the power to make a difference to students all over the world. This is what motivates us here at Books of Discovery," says Kate.
Books of Discovery knew that what Kathy was trying to accomplish was important. Kate and her team immediately went to work putting together boxes of additional Trail Guide to the Body textbooks, workbooks, videos, poster sets, flash cards, and other learning resources for a donation to Kathy's new class.
Not just memorizing. Learning that now includes 'touching.'
Demand for the class grew suddenly. "We had 27 applications for 15 spots in our first class, filled with first year to master's students and doctors. There's even one therapist who rides the bus two hours each way to attend the class each Saturday," explains Kathy. "And now, we have an abundance of textbooks for students to use and learn 'touch.' "
The results of using Trail Guide to the Body in the palpation class have been, in Kathy's eyes, phenomenal.
"I wish you could see the students start to 'think' and try to figure out 'function' using their own bodies and the new textbooks," Kathy wrote in a recent email to Kate. "They aren't just memorizing how to palpate muscles and bony structures, they're visualizing it with the text and then actually practicing it."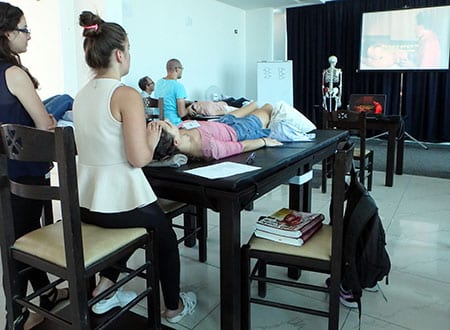 Kathy ends her email to Kate with an added note:
"I wish you all could fully understand how special Books of Discovery's gift is and will continue to be for years to come. Your company will be part of the 'change' for medical education in this country!"